Pitch Princh to your boss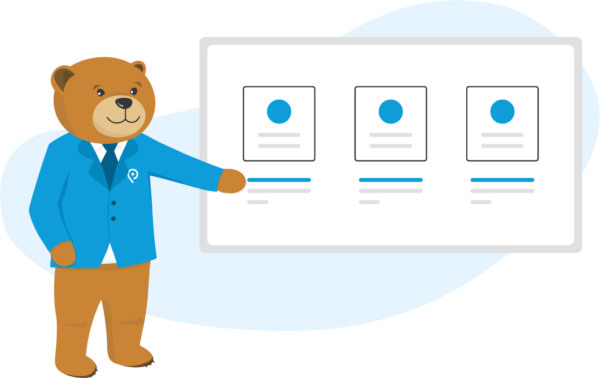 Are you considering Princh as your library's next printing, copying and scanning solution but need some help convincing your superior(s)? Then you're in the right place! On this page we will lay out all information you may need, so you can easily build a strong business case for implementing Princh at your library.
We will discuss:
Throughout the page, you will find many additional resources you can use to build your business case, such as our Ultimate Guide to Princh and Introduction to Princh Products documents. While these resources are optional, we strongly recommend that you check them out to gain a deeper understanding of our product's benefits or to utilize them in your pitch for Princh at your library.
Why a superior document service solution is a must for your library
Ease of use will always improve the patron experience. Visitors want a simple way to print, copy, scan and pay for their documents. This means your visitors should not have to remember passwords, usernames or have to pay with exact change. Furthermore, visitors shouldn't be forced to download mobile apps, email their sensitive data or be left on their own to figure out how your services work. Having a user-friendly printing, copying and scanning solution not only saves time for staff by offering a self-service solution but also optimizes printing and copying revenue for your library.
The advantages of Princh
Choosing Princh ensures your library offers the most user-friendly printing, copying and scanning service available. With countless videos, step-by-step guides and promotional materials to utilize, Princh eliminates any confusion around printing from any device, copying and scanning of documents and the subsequent payment process. This ensures your library visitors are happy with their experience and saves time for your library staff.
Princh allows your visitors to easily print and pay from any device. Whether it is scanning a QR code, using our mobile or web app, or printing from a public PC, the printing process is simple and convenient. Our software was created with integrated electronic payment, so library visitors can pay electronically through our payment gateway. This means the library doesn't need to set up any accounts or payment agreements to accept bank or credit cards or mobile payment apps like Google Pay and Apple Pay.
Additionally, with Princh, every print and copy job must be paid before the process is completed. This helps to reduce paper waste and maximizes revenue from document services at your library.
Alternatives
You and your boss will already know Princh is not the only printing solution available. To help with the decision-making process, we suggest analyzing what Princh can do compared to your current or competing solutions. Use this list to see how Princh stacks up against any alternative option.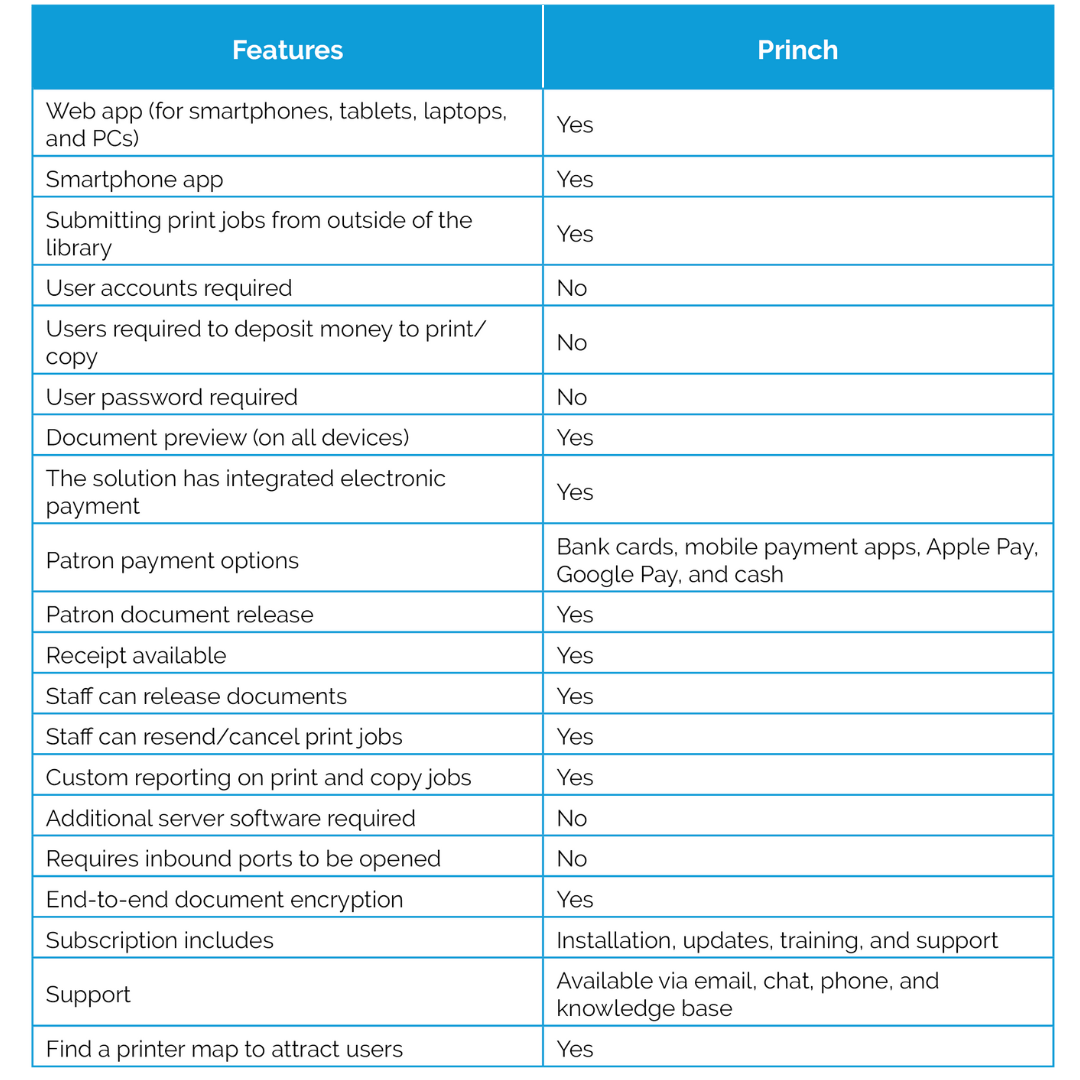 Princh products offer your library more benefits than any other available solution on the market! Check out our Interactive Guides to experience how our products work, and to get a further understanding of our BYOD, Public PC and Copy & Scan products.
Cost
No matter how great a solution is, if your library can't afford it, you can't move forward with it! We understand this, which is why Princh has tailored pricing specifically for libraries. We have pricing for libraries of all sizes and budgets. We tailor your price based on a few different factors. You can get in touch with us to receive a quote based on your setup and needs here.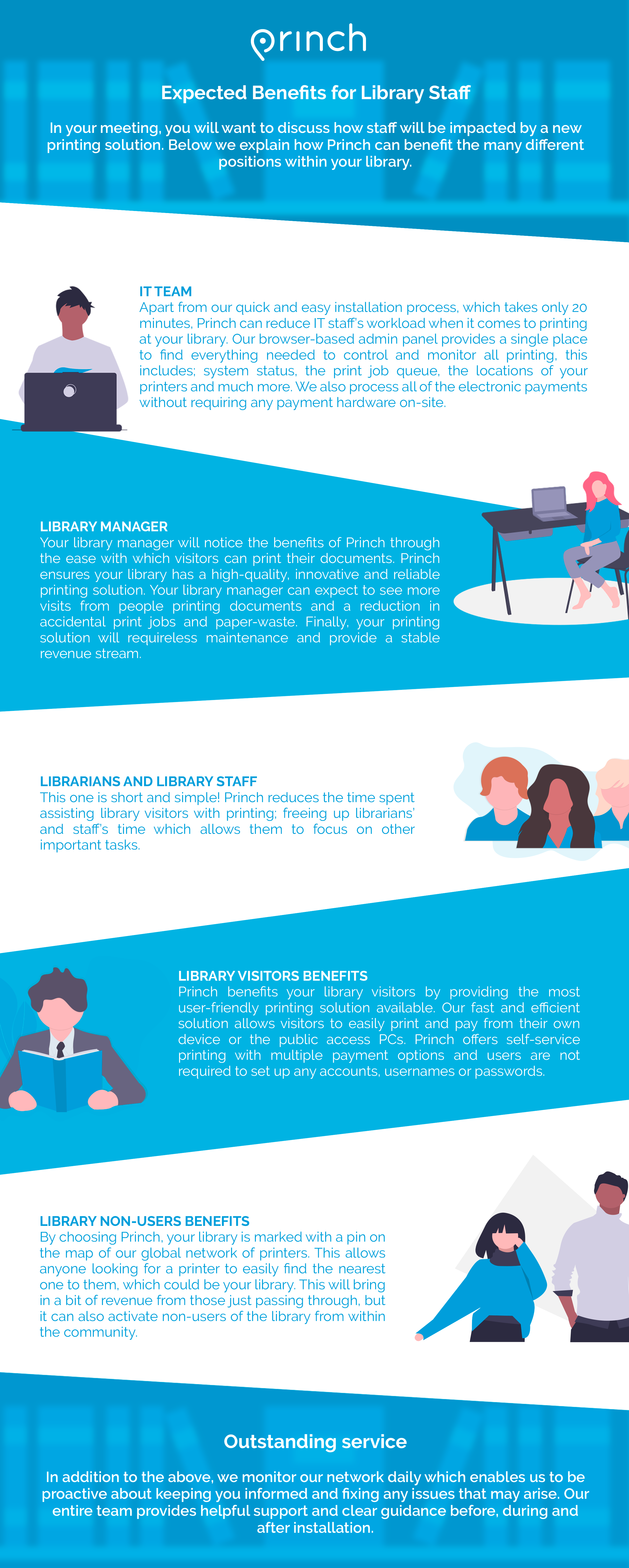 Sustainability
Princh was founded based on the sharing economy, making printing, copying, scanning and payment environmentally friendly. Princh makes it easy for your visitors and community members to find a printer at your library reducing the need for home printers, thus reducing CO2 emissions and additional waste.
You can read in-depth about how Princh products reduce your community's environmental footprint, including a case example. Click here to read more about why we are a sustainable solution.
Implementation
We know you're busy; that's why installing Princh is super quick and easy, taking only 15 mins of your time. Our friendly customer success team will carry out the installation for you, and during the process, will walk you through everything you need to know to get started right away.
To further ease the implementation process, you'll be given access to the materials in our welcome center which are there to help your library get the most out of Princh. There you'll find items such as user guides, print guide posters, our interactive online staff training course, and ready-to-use materials for your library's social media and website. All these resources are included in our pricing, so no worrying about additional fees or costs to utilize these resources.
After implementation, our customer success team is always ready to provide help and support to ensure you and your patrons are happy with Princh. Alternatively, you can find answers to all your Princh questions in our extensive and continuously updated Knowledge base.
Risks
Every new system, service, or solution the library considers has a potential risk. However, we have a remedy for this – you can try our solution for 30-days absolutely free, with no commitment or payment info required. This allows you to fully evaluate Princh and make sure that our solution is the perfect fit for your library's needs.
Once your trial is over and you decide to continue with Princh, the transitioning process is seamless; there is practically nothing you need to do to continue utilizing our services.
To start your 30-day free trial, you can get in touch with us here.
Your turn
We hope this information has helped you get a better understanding of Princh. We want to provide you with all the materials you may need to convince your boss(es) to choose Princh as your new printing, copying and scanning solution. Hence, we created our Princh Resources page where you can find many different materials that will help you convince your boss.
Time not on your side? We suggest you download the Ultimate Guide to Princh where you will be provided with a summary of our products, our installation process, other libraries using us and pricing information. You can download it by clicking the button below!
Prefer video content you can share with your colleagues? You can watch our On-Demand Demo, a concise yet informative video that summarizes the key benefits of Princh. You can watch it here.