The Carnegie's Shining a Light report confirms that libraries are still valuable to people, with 72% overall saying libraries are important for their communities. However, there are some groups that have dropped their usage, mostly those with a lower socio-economic status. The reasons are various, ranging from a lack of interest to the language barriers or to the inability to get there. The big challenge now is how to get these people back to the library's perimeters.
In the third part of this series, we will focus on the sensitive community groups that a library can attract and transform into its most faithful visitors by providing equality of access to information.
1. Help refugees integrate into the local community
They are strangers forced to leave their country with a totally different culture than the local one. As newcomers, they need to learn the local language, learn to understand the culture and meet new people. To ensure their integration, libraries can play a major role by guiding and teaching them, while offering an opportunity to socialize with other members of the community.
What services to offer?
The members of IFLA's Public Libraries Standing Committee and their colleagues compiled a list of best practices around the globe from which you can take your inspiration. For example,  Cologne Public Library in Germany and its program for refugees. The Sprachraum (language space), was created by Dr. Hannelore Vogt, the library's director, in 2015. It is a large ground-floor room that sits opposite the main library building and serves both as a meeting point and learning hub for refugees. Together with the volunteers, the library's staff organizes social and learning activities like craft sessions, mentoring sessions or language sessions.
Bonus Tip: Want to act immediately?
There is a new amazing movement in the library-world that you can easily join: Libraries are for everyone. Librarian Rebecca McCorkindale from Hafuboti created these visuals in more than 50 languages. Print your favorite and share it in your library!
ffff
Source: hafuboti.com
2.  Offer people with disabilities access to information
People with mental or physical disabilities have special needs that cannot be easily fulfilled through the ordinary public services. By adding some additional services, and offering materials in audio or braille format, the library can improve the experience of users with disabilities. Also, the library can give them the possibility to socialize with other people from the community and spend a few hours in the company of others, which can be a real benefit.
Where to start?
The International Federation of Library Associations and Institutions (IFLA) created a checklist on how to offer access to libraries for persons with disabilities that you can find here. A good example of these practices is the National Library Service for the Blind and Physically Handicapped (NLS) in the US. NLS is a national program funded by the government that gathers a network of public libraries, which offers free home library service for people who cannot go to the library because of a disability. Thus, people have access to braille and audio materials from the library in their own homes, for free.

Source: IFLA.org
3. Help the homeless integrate back into the society
Library services for people without homes may be limited or denied in many circumstances but they might be a good source in your stream of visitors. It's a sensitive topic and opinions are divided, but it's a fact that the library can play a role in their lives. The library can be an attractive and safe place to spend time for the homeless since they lack a permanent place to live.
What services to offer?
Take the example of the San Francisco Public Library. In partnership with the local Department of Public Health and the San Francisco Full-Integrated Recovery Services Team, the library started a homeless outreach program. The team reaches out to homeless people in the library and offers them training and information on where to find shelter, food or other resources. More interestingly, their team includes formerly homeless people that go through a 12-week vocational program.
Need more ideas? Jaclyn Rosansky, in partnership with Amy Shaw from ProQuest, has developed a broad list of more than 30 ideas of services for the homeless that you can offer in your local library and get more people to use the library.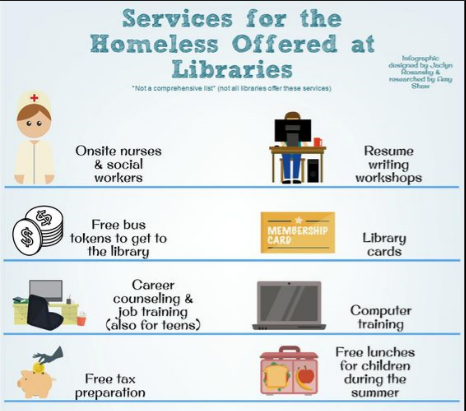 Source: Proquest.com
Are you looking for more library insights and new ways to get more people to use the library? Stay tuned for our post next week and read the latest developments in libraries from around the world. Find us on social media via Facebook or Twitter and subscribe to our blog and receive relevant news sent directly to you.
Petra Paraschiv
This month, we join the celebrations of our much-loved libraries. Libraries Month has started in Canada as well as Libraries Week in [...]
Erika Naud
The library is about the people. When thinking about the identity crisis librarians have been facing, it becomes clearer and clearer that [...]