As we pointed out in the previous post, there are many ways to attract new users to the library's perimeters, and some of them can be easily implemented.
Didn't read our first article? You can find it here.
We know that getting started is the hardest part in implementing a new service. Therefore, we talked with Rolf Hapel, Director of Citizens' Services and Libraries at DOKK1, the main library in Aarhus, Denmark. He provided some insights regarding the library's activity that we want to share with you. In this interview, you will learn about how DOKK1 was developed and managed to be such a success.
How Dokk1 managed to double the number of visits to the library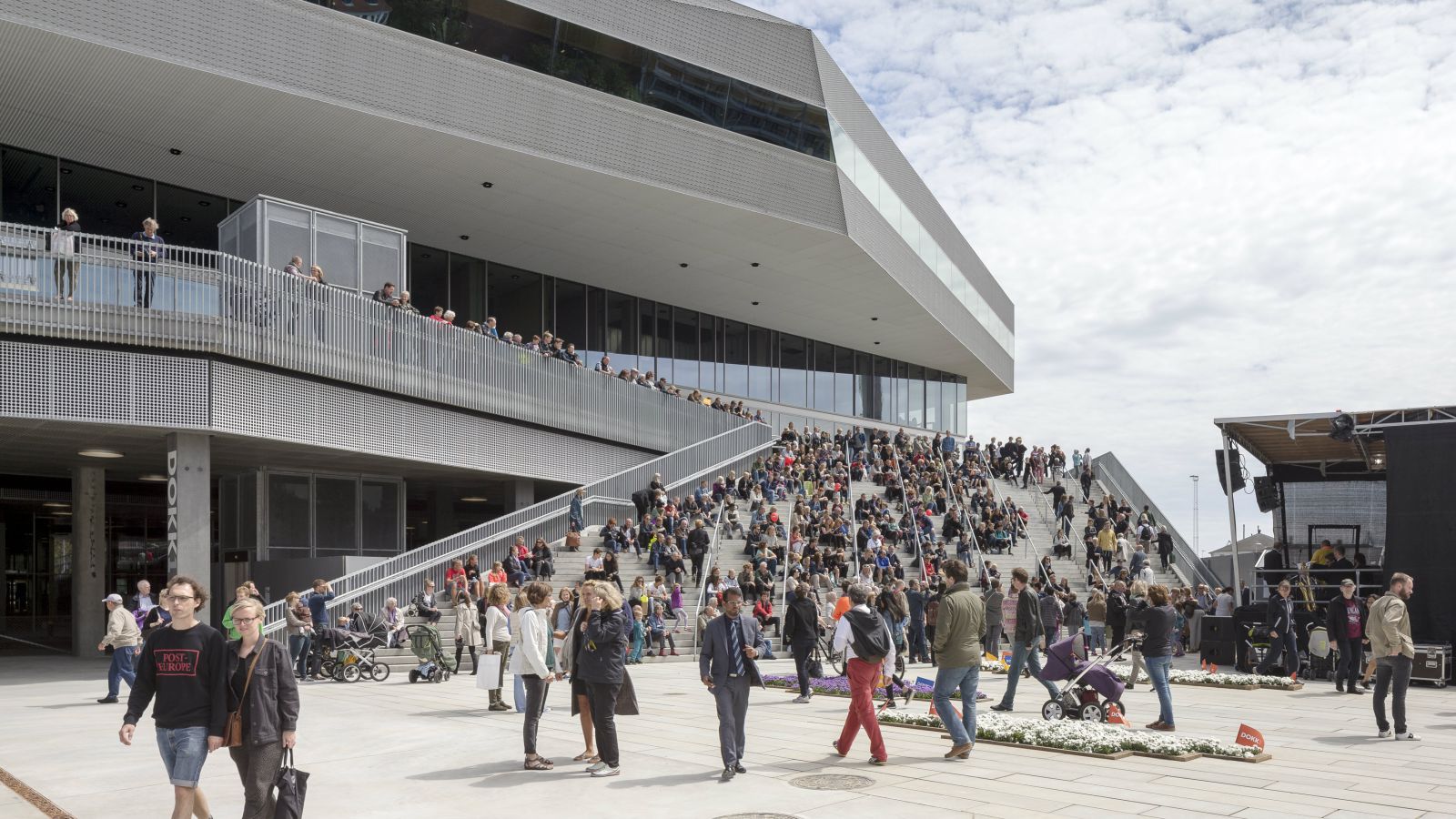 1. When reviewing the statistics in the library sector, we've noticed a general trend that the library usage has decreased in the past few years. Why do you think that happened?

Well, in fact, in Denmark, the library usage has increased over the last few years (usage –  measured in the number of visitors to the physical libraries), while the number of book loans has gone down. The explanation for the latter is of course linked to the ever more prevalent digitization of knowledge and cultural content.
Even so, the explanation for the increased number of visits to the libraries in Denmark has to do with the fact that, for a number of years, the Danish libraries have been working to establish new and relevant services and business models that for instance contain various elements of citizens' services.
Danish #libraries have been working to establish new and relevant #services that contain various elements of #citizens' services. Click To Tweet
2. We think libraries should go beyond their main activity when searching for new ways to attract citizens to the library. How are you proceeding at DOKK1(the main library) when implementing a new service and choosing a partner?
Yes, I agree. In Denmark, there are various good examples of partnerships between libraries and other public entities or organisations from the civic society (e.g., NGO's, volunteers, etc.). In Aarhus, at DOKK1 we have more than 130 registered partnerships. The process is simple: the partner will bring in an activity, the library will provide space, promote the activity (often via social media) and give help with logistics.
The prerequisite, of course, being that the actual activity is aligned with our general purpose of promoting lifelong learning and cultural experience and that it fits in with our program profile. About 60% of our programs are either done entirely or partly by our partners.   
3. Dokk1 has become a community center, offering a mix of library services and public services. How did you come up with this strategy? 
In 2004 there was a national political urge towards creating a kind of 'one-stop-shop' for public service. The reason was that people had to move from office to office just to have trivial processes like moving to another city done. Eventually, in 2005, there was a law on that matter that passed in the parliament. To me, it was obvious that a municipal citizens' service would have a lot in common with the libraries, as we in the Danish library act also have an obligation to provide governmental information to the public, as would the citizens' service.
Furthermore, both citizens' services and libraries were born with a service obligation and the libraries were already there all over the landscape and it would be great for the citizens if more functionality was built in the libraries. So both from an institutional and a user perspective this has been a very good development, even if you probably still can find a few librarians around that might be a bit frustrated over the fact that they have to issue a passport now and again.
Both citizens' services and #libraries were born with a #service obligation and offering a mix of library services and public services has been a very good development. Click To Tweet
4. Has the number of library visits increased since the library opening? Why is that? Do you have some numbers to share with us? 
Yes, the number of visits has increased dramatically – from around 500,000 per year in the old main library to 1,3 mill in the new.  About 10% of visitors are coming for citizens' services. Now, almost two years after the opening, there is no sign of a decreased interest – the number of visitors is still on that level.I believe that the reasons for the very high number of visitors are multiple: There are really good spaces for families and children,
Dokk1 has also proved to be a great place to study, there are various levels of 'togetherness' or 'remoteness' that you can choose from, we have a versatile event program with a broad appeal to all kind of user groups, the citizens' service is easy to find.
Dokk1 offers various levels of 'togetherness' or 'remoteness' that you can choose from. #libraries #innovation #communityhub Click To Tweet
Overall, we have an open and friendly environment with a nice cafe and a great playground – and there is always something new going on. 
Are you looking for more library insights? Stay tuned for our weekly update and read the latest developments in libraries from around the world. Find us on social media via Facebook or Twitter and subscribe to our blog and receive relevant news sent directly to you.
Petra Paraschiv
There are many things happening in the library world, but we've got the scoop on the latest trend in libraries: eliminating fines. In a [...]
Petra Paraschiv
In this day and age, it takes just a few clicks to get a free digital copy of classics such as Moby Dick by Herman [...]
Petra Paraschiv
In recent years, there has been another strong debate in the library world concerning the elimination of library fines. The fines are commonly considered [...]