Library branding is more than just an identity or an awareness level, it's about enhancing a continuous customer experience at the library in both physical and digital aspects. The library staff are constantly dedicated to delivering the best customer experience to library users while offering a huge range of services. Libraries will always strive to continuously deliver a well-perceived value to retain library users. Different marketing aspects can be utilized in order to reach the higher level of awareness required to achieve a trusted and recognizable library brand name. This blog will provide tools and ideas based on digital marketing trends to help build and maintain a strong library brand and identity.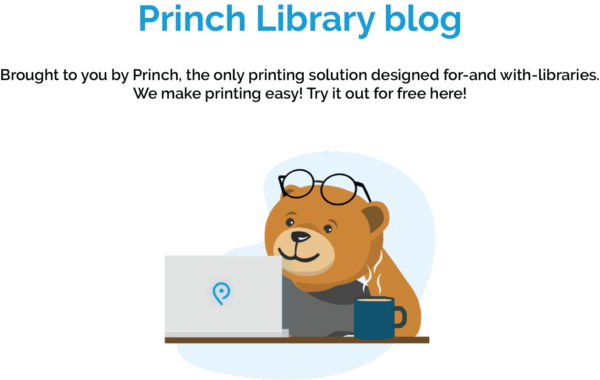 Define the Library's Brand
Marketing the library consists of first identifying a target audience and then delivering the library's value proposition to them, thus creating a consistent brand. The real challenge is to maintain the satisfaction of library visitors with the services offered while also keeping them updated about new products and services as well as any changes at the library. The identification of the library's brand name is essential to drive user engagement and to ensure organizational commitment internally.
As technologies evolve, and after the COVID-19 crisis which has elevated the modernization of the digital marketing aspects in the library sector, libraries can now seize this new opportunity to develop for future growth. Marketing trends mainly rely on new technology to help institutions and different sectors increase their market reach and improve all marketing activities' performance. Nowadays, targeting library users has become easier and faster, with online platforms interacting with each library visitor is now only one click away.
Establishing the library's identity requires a specific outline defined in the following steps: Logo, Vision, Mission, Culture, Design, Communication. After these steps are achieved, the brand identity is defined. Next is the evaluation of the brand.
Online Marketing for your library
Digital marketing trends regarding social media channels, ads, email marketing, content marketing, etc. are diverting focus to online marketing activities which can help strengthen the institution's online presence. Across multiple platforms, libraries can connect with their members through various digital touchpoints throughout the customer journey. This serves to increase engagement and strengthen relationships with library users.
Creating and maintaining the library's online presence requires constant social interaction with followers to keep the target group updated with relevant information. It's simple to remind followers about the benefits the library offers across various social media channels. By utilizing well-developed content, keeping the library brand present in all graphics, and finally reinforcing it with a slogan, users are well informed and motivated to take action!
An example of a simple digital marketing tool that can be used to drive awareness is boosting a post or creating ads about a library product or a new collection of books. Deliver to your targeted library visitors the library's value proposition in a clear ad promoting the product or collection, with a clear 'call to action' utilizing different online platforms like the library's website, mobile app, social media channels or emails which will provide leads to achieve a higher engagement rate.
Paula Scher designs dynamic brand identity for @librarycongress, the world's largest library https://t.co/qZdQ9WAeal pic.twitter.com/FGF8mlmjg6

— Pentagram Design (@pentagram) August 21, 2018
Making your library standout
Tracking down external competitors can be vicious because competing libraries in the same market will adopt various marketing strategies to ensure their brand name is 'the best in class.' A constant benchmark analysis against competitors helps keep track of performance and ranking which can be leveraged to improve market positioning and brand awareness.
Many digital components are essential when defining a library's brand online and have the potential to improve a user's brand perception. For example, the library's website could be the first impression a visitor has of the library. There are key digital elements that could be used to ensure brand consistency, including curated content, infographics and visual content. All elements used should clearly represent the brand's identity and will subsequently catch the visitor's attention which will ensure they acknowledge the brand perceived.
A library can improve the customer experience digitally by improving online marketing activities across all platforms. This will satisfy the library visitors' needs and help to retain the audience in both digital and physical aspects. When an ideal customer journey is achieved, it is the complete summation of the user's accumulated experiences with the library.
Each library has a different way to approach and interact with their visitors and customers. Continuous interaction will help grow the library's audience over time, as well as ease the interaction process with them. In order to reach a bigger, and wider audience the library can utilize different digital marketing tools such as: organic and paid social media, email marketing, content creation among others that will support the digital marketing strategy of the Library, therefore increasing the chance of strengthening the library's brand and reputation in the market.
After having built the library's brand identity, reinforced by an online presence, the next step is to evaluate the performance over time. A focus on keeping consistency between the library's messages and its brand, will improve the customer's brand perception. Awareness of a library's brand is the key to maintaining their identity in the library world.
Try it out
Using digital platforms and participating in online activities has become a new daily routine in people's lives, it has also provided more opportunities to connect with the library's target audience. Leveraging the digital marketing tools discussed in this blog can potentially generate new leads for improvements in the library visitors' experience, and therefore strengthen visitor relationships with the library. When the brand and messages are consistent across all digital and physical touchpoints in the customer journey this will strengthen the library's identity and increase awareness of the library's brand.
Dominique is a content writer for the Princh Library Blog. Princh, which is a printing solution designed specifically for and with public libraries, makes a consistent effort to provide advocacy for libraries and library professionals. The Princh Blog discusses library specific topics that inform their readers of library trends, insights, technologies and more.
Zilla
In this week's Princh Library Blog post, we are going to cover the transformation of the Idsall School Library. The school was [...]
Zilla
In this week's Princh Library Blog post, recurring guest writer Edgardo Civallero reminds us where and how libraries started, and the long path [...]