Who does "library professionals" refer to? What do they do, and how are they helpful for their communities? And why do they wear so many hats? Guest writer and Information Professional Ania Matuszewska shares her thoughts in this week's Princh Library Blog post!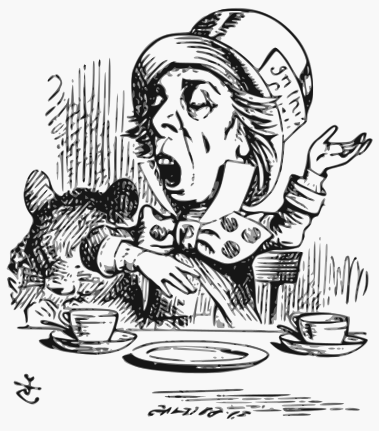 The Mad Hatter by John Tenniel (1865)
'Ipsa scientia potestas est.'
Among other activities, information professionals collect, record, organise, store, preserve, retrieve, translate, disseminate and delete information.
I use the term 'information professional' to group similar and/or coextensive professions, e.g. librarians, information managers, knowledge managers, record managers, collections managers, digital skills managers, information systems specialists, information analysts, information scientists, research support officers, scholarly communication officers etc.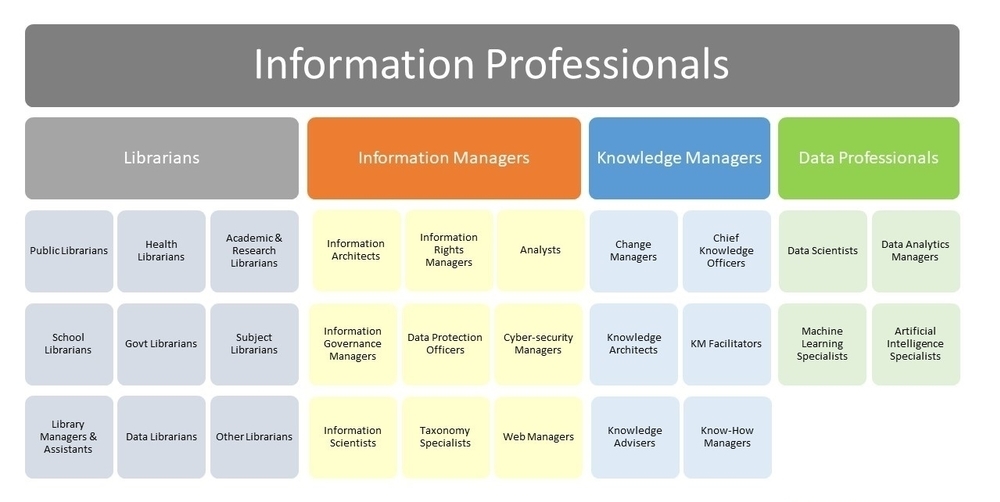 Information Professionals according to CILIP
Information Professionals
Information professionals are involved in the protection of intellectual freedom, freedom of expression, freedom of access to knowledge/information and culture and the compliance with the principle of ideological, political and religious neutrality.
And, paraphrasing Neil Gaiman, if Google can bring you back 100,000 answers, an information professional can bring you back the right one.
Information professionals get the right information from the right source to the right user at the right time in the right form.
My current job title is Systems Librarian, but I have always identified myself as an Information Professional.
I do it on purpose, partially to escape Pandora's box of stereotypes. I am not an old-fashioned, fussy, boring, harsh and colourless person. And what I have been doing throughout my career for more than 17 years is far from stamping books and/or hiding in dusty and dingy book stacks. I also use my personal brand to contribute to the positive image of the profession.
Supporting and Empowering People
For me being an information professional means celebrating libraries, reading, writing, communities and access to information/knowledge. No matter the sector, no matter the country, I love the buzz of supporting and empowering people, looking for answers, finding solutions, sharing knowledge and learning/teaching new things.
According to Brettle & Maden (2015) there is a real value in the profession and there is evidence to support it. We add value! Information professionals make a significant contribution to the overall aims of the organisations that they serve:
Information professionals help people improve their education, health, employment prospects and their sense of belonging.
They support reading and development of reading skills.
They facilitate learning.
They support research skills development, research and research achievement.
They support decisions making (including clinical decisions)
They support services development and/or delivery (including patient-centered care).
Information professionals help to demonstrate efficiency/cost-effectiveness (including saving health professionals time).
Many Hats and Many Skills
I am a qualified librarian, but I've also qualified as a teacher, an information scientist, a journalist and a PR specialist to enhance my professional-self. And I am not done learning! And with my secret powers – flexible skills – I have been and can be so many things, and you can too!
Always start from the good place – your skills and competencies. Don't be tortured by what you are not, think of what you are and can be!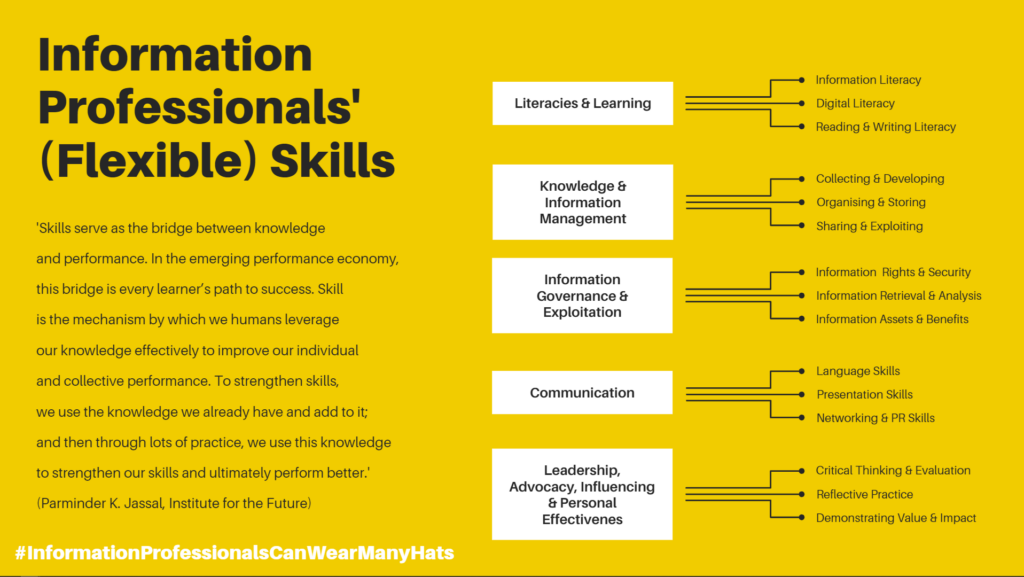 Information Professionals' (Flexible) Skills by Ania Matuszewska
Start with some basic steps, like reflecting on skills and competencies of information professionals. Use different available tools, such as the CILIP Professional Knowledge and Skills Base (PKSB). Identify your strengths. Identify your weaknesses. Identify skills and competencies for different career options.
Look for your 'hat' out there! There are so many… Consult job descriptions as they are being advertised – just main activities/responsibilities to start with. If you find something interesting and can imagine yourself doing it, look further at a person's specification etc. Learn what is required and think how you can meet the requirements and evidence them.
And put yourself out there and let the world learn about you! You will be joining a highly skilled workforce driven by professionalism and ethics.
Attributions & References
Brettle, A. & Maden, M. (2015) What evidence is there to support the employment of trained and professionally registered library, information and knowledge workers? A systematic scoping review of the evidence. [A piece of research by the University of Salford commissioned by CILIP] Available at: https://cdn.ymaws.com/
Cassidy, K. (2017) This is what a librarian looks like. A celebration of libraries, communities, and access to information.
CILIP (2021) The Professional Knowledge and Skills base. Available: https://www.cilip.org.uk/page/PKSBvalue
CILIP (2018) CILIP Workforce Development Strategy 2019-2024. [Chart showing increased diversification of Information Professional roles] Available: https://www.cilip.org.uk/page/WorkforceDevelopment
Gall, D. (2012) Librarian like a rock star. Using your personal brand to promote your services and reach distant users. Journal of Library Administration 52(6-7). DOI: https://doi.org/10.1080/01930826.2012.707952
Hall, H., Irving, Ch., Ryan, B., Raeside R., Dutton, M. & Chen, T. (2014) A study of the UK information workforce. Mapping the Library, Archives, Records, Information Management and Knowledge Management and related professions in the United Kingdom. [A piece of research by the Edinburgh Napier University commissioned by CILIP and the Archives Records Association (UK & Ireland) (ARA)] Available at: https://www.cilip.org.uk/page/workforcemapping
Skills Development Scotland (2018) Skills 4.0: A skills model to drive Scotland's future. Available at: https://www.skillsdevelopmentscotland.co.uk/media/44684/skills-40_a-skills-model.pdf
Ania Matuszewska
I am #Librarian, #InformationProfessional, #Educator, #Reader, #Buchling and #NaturalBornFixer! Throughout my career I have been wearing many 'hats'. Just to name a few: Academic Support Librarian, Accessibility Consultant, Book Reviewer, Content Developer, Hospital Librarian, ICT Teacher, Indexer, Information Broker, Journalist, Lecturer in Scientific Information and Library Science, Liaison Librarian, Librarian, Library Assistant, School Librarian, Senior Librarian, Support Worker for People with Learning Disabilities and Systems Librarian. My current role is based within the Quality Directorate: Evidence Function in one of the Scottish Health Boards – NHS Lanarkshire.
You can find me on Twitter –