Given the large interest in our first interview with Rolf Hapel from Aarhus Public Library, we've decided to create a series of interviews with representatives and thought leaders from libraries around the globe – great and inspirational insights. So stay tuned!
For the second article in our series, we talked with Ian Anstice, editor of the Public Libraries News website in the UK. A public librarian since 1994, Ian is a keen advocate of public libraries and chronicler of the UK public libraries scene. He is a library manager at Winsford Library since 1998 and a winner of Information Professional of the Year 2011 and Winsford Customer Service "Oscar" 2012 and 2014.
He talks more about the opportunities and challenges libraries can face when collaborating in their activities.
How inter-library collaboration can get more people to libraries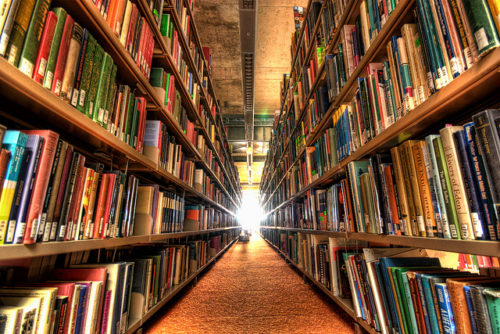 1. On your website, you have a few articles about library collaboration, which suggest that libraries should combine their activities and offer a mix of library services to users in a region or even nationwide. Why is that?
Answer: Because it's cheaper and means a better product for consumers. Larger authorities mean greater economies of scale and at the same time, it means that a library user is less bothered by petty boundaries. However, one also needs to be careful about the too large a service. A happy common ground may be a consortium such as LibrariesWest, where local control is kept with the council but many behind-the-scenes tasks are effectively done by one organisation. That seems to me to be the best solution in the harsh financial environment that many UK library systems find themselves in at the moment.
2. What would be the benefits and challenges of this kind of strategy?
Answer: Benefits are economies of scale (sadly, this also meaning less library workers) and an improved access to resources for the public. The disadvantage is a taking away of local control if done badly. One also needs to be careful of fully combining services, as the messy divorce currently under way in the Tri-borough shows (In 2017, the tri-borough broke up as Hammersmith & Fulham and Kensington & Chelsea/Westminster mutually accused each other of lack of faith). Nothing is permanent and if one council decides they no longer want to play, this can create an awful and costly mess. And the increased cost is the last thing we need at the moment. One other danger of merging the library services is the loss of local input as to stock.  Waterstones in this country proved the danger of purchasing centrally – usage went down when it did that and it has gone back up again now that individual branch managers have more say.  The same is in libraries. The trick is to combine local choice when it comes to stock and offer, with regional or larger merging of other services.
3. How can libraries organize and what new types of services could they offer if they combine their activities? 
Answer: For the public, a combined library card, stock, and website would be obvious wins in terms of offers. For the councils themselves, it means less need to duplicate backroom staff and have all those relatively expensive senior staff. We already see that in a few, such as LibrariesWest and the London Libraries Consortium (LLC). I would also expect joint training packages, recruitment programmes and promotional activities. Indeed, it does not take a crystal ball to see these things. They're already happening, but patchily and organically.
4. How would these changes be perceived by the users of the library?
Answer: Library users are so conditioned in the UK to fear that their local library might be closing that anything like this would probably be met with relief at worst. It would also be something welcomed by the government (who are always keen for local councils to save costs and be "imaginative"). There would be some fear of loss of local control but I suspect most people prefer their library services open, first, and everything else, second.
5. Do you have additional comments or advice for libraries wanting to implement new and attractive programs in their libraries?
Answer: Have a think about why you're doing it. Is it because it looks shiny or you want to get noticed? That's not so good. Is it something that stands a chance of success after the lifetime of the initial funding? That's better. I don't mean avoid things that may fail. Failure is good. Failure helps you and your organisation learn. Just be honest with yourself about your motives. Oh, and most obviously, check to see if it has been successfully elsewhere. There's a lot of insularity, even now, in public libraries. I firmly believe that we can learn from each other. That's why I do Public Libraries News. We're information professionals and part of that means we should be good at doing our research.
Are you looking for more library insights and new ways to get more people to libraries? Stay tuned for our post next week and read the latest developments in libraries from around the world. Find us on social media via Facebook or Twitter and subscribe to our blog and receive relevant news sent directly to you.
Alzbeta
In one of our latest blog posts, we introduced Katja, the facility dog of Red Deer Public Library. This time, we will [...]
Alzbeta
In this week's Princh Library Blog post, guest writer Nina Grant explores how libraries tackle the challenge of mold in their collections. [...]