Social media is everywhere. In the "Western world" it would be difficult to find someone who does not have a social media account on at least one platform, let alone someone who is not aware of the existence of social media. As such, regardless of who your services are aimed at, you will most likely be able to reach them through social media. But how exactly? Today, guest writer Saoirse de Paor, shares 6 tips on how to take your library's social media to the next level!
Since starting in my current position as a Teaching and Learning Librarian at Maynooth University Library, I never anticipated that social media would become such a significant part of my work. Making sure students and staff are informed and regularly updated on the different ways that we can help and support them throughout the academic year is at the core of everything we do. From my experience of working on various initiatives and campaigns, I have learned (the hard way) that the time given to promoting an event should be equal, if not more, to planning the event itself.
If we can agree that promotion and advertisement can play a key role in how our users participate, engage, and interact with library initiatives, I think it's safe to say that social media is a strong ally. With the development of new social media tools, technology, and platforms, there is a real opportunity for libraries to take full advantage of social media in furthering and enhancing their engagement with users and presenting their services and supports dynamically and innovatively.
After four years of working on promotion and outreach strategies for multiple teams, university groups, and professional committees, I have come up with some key recommendations worth considering when looking to boost your social media presence and take your Library's social media to the next level!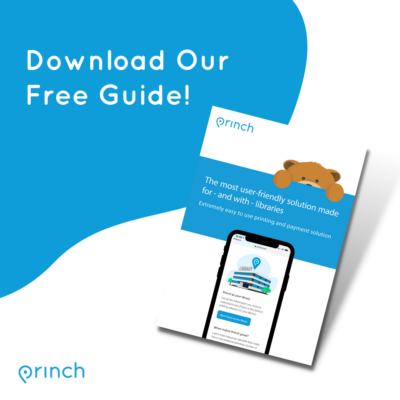 Are you curious what Princh can offer for your library and your patrons? Then check out the Ultimate Guide To Princh For Libraries, to learn about all the benefits our solution offers! You can download our guide here.
Themes for thought!
Deciding on a strategy for social media can sometimes feel like starting with a blank slate. Since it can be difficult to come up with a post daily or weekly, having a look at the calendar year or semester ahead and considering relevant themes and topics can guide and structure your output. Themes should be kept broad to facilitate different ideas, projects, and plans and used to complement wider Library initiatives, University/Institution calendars, or public events. Deciding on themes in advance ensures that your library's social media presence remains consistent without being repetitive, and interesting without being predictable.
Developing the Brand
Once your library's topic or theme has been chosen, the text agreed upon, and the relevant image identified, it's time to think about the look and feel of your output. Since the effectiveness of a social media post is heavily dictated by aesthetics and formatting, it's important to consider how this can be enhanced and improved. From my own experience of developing material for social media, using a specific template, set of colours, and graphics creates a consistency that works well in associating your post with a specific topic or concept. Naturally, your followers become familiar with your library, your brand, and what it is you are promoting or sharing due to the visual consistency.
Another element of branding is packaging your content in a way that links different content and material together. By creating a specific template around a set of resources, supports or even an event, users can access and locate the material easier.
Multiple Means of Engagement
While there are multiple ways of getting your message across online, social media offers the opportunity to make your content engaging, interactive, and innovative through its tools and functions. When planning your promotional strategy, consider the various formats that you can use to share your message dynamically and innovatively – record a 60-second How To video on Instagram and Facebook Stories outlining your key services, hop on to an Instagram live with another colleague to discuss an upcoming event, or engage directly with users through Instagram's Q&A tool to capture feedback on your workshops. Think outside the box.
By facilitating different levels of engagement, these platforms can also harvest rich data that captures levels of engagement, reach, and output. This can be helpful to library accounts for identifying gaps, areas for improvement, and opportunities to engage with users in a different way. By utilising engagement tools and enhancing activity, libraries can start exploring ways of capturing feedback, user experiences, and user needs.
The Target Audience
As part of a social media strategy, is important to think about your library's target audience and how best to interact and engage with them. Language can be overlooked, despite it being a critical part of communication. The language used in posts and assets needs to be relatable to your library's audience to be effective. When using specific terminology or "library lingo", it automatically creates barriers for groups who may not relate to or understand the purpose of the post. Identifying 2 to 3 key messages with clear and concise language is usually a good rule of thumb. Similarly, the use of action words and questions often resonates with people better as it catches their attention and seeks a level of engagement.
When we're thinking about audiences, your colleagues within your library or institution must be considered too. While social media acts as a platform to connect and engage with users, it's important to consider your internal stakeholders as they too should be aware of what it is you are promoting and what initiatives or events are occurring within your department or team.
Collaborative Campaigns
Collaborating with other libraries and groups is a great way of widening your reach to different users and building partnerships within the profession, as well as outside of it. While collaboration is something libraries do extremely well, it's important that we ensure social media enhances and improves this further.
When seeking out potential collaborators within or outside of your library, consider a shared need or goal with another group and how this collaboration can further support your users. Both parties should have a presence on social media where they can promote, share, and circulate information on the campaign with their individual followers – widening the reach. Utilising different techniques to maximise the output is also key, for example, tagging individual accounts, sharing and re-posting, creating a hashtag that people can follow, and scheduling your posts together to create a consistent collaborative social media campaign.
Accessibility is a requirement, not an afterthought
This blog wouldn't be complete without referencing the importance of accessibility as part of your social media strategy. It is vital that the content and material you share offer people with disabilities an equal opportunity to engage, interact and communicate with your content. To ensure you are not excluding a significant group of your library users, there are some key factors you must consider when using social media; Make sure to use accessible-friendly colours in your graphics and posters while also making sure the text is easy to read, clear and concise. Include alt-text in your posts as well as subtitles or captioning in videos and tutorials that you create and share. There is much more information available on these types of standards, but we must consider these steps in ensuring that we are not actively excluding groups from these virtual spaces or creating barriers around access to information.